Product Description
Smoother Safer Towing: Improves your ride, reduces wear & tear on pickup & Platinum Coach gooseneck horse trailer.
Easy Install: Completely replaces your factory gooseneck stem & coupler with Gooseneck Surge Air System & Coupler. Installs in Minutes.
Absorbs Road Shock: Helps eliminate tugs, jerks & bumps felt when towing on rough roads or concrete highways.
Built in Airbag: This hitch directs the tow resistance through an airbag, producing a smooth ride.
30,000 lbs & 7,000 lbs tongue weight: Available with 30k dual latching Shift Lock gooseneck coupler. 9″ offset coupler option has 6,000 lb tongue weight.
Air Ride Technology: Protects your truck, gooseneck trailer and their contents with a smoother, safer tow. Heavy loads, just add air. The cure for choppy, bouncy, buckled, rough & busted up roads. No more booms, bangs and jerks when towing with your gooseneck.
Fits 4″ Round Stem: With angled / slotted holes for the pin. Not sure what size round gooseneck stem you have? Check out our gooseneck stem selection guide.
Fits 2-5/16″ gooseneck hitch balls: & has 3 height adjustment holes. (Standard coupler extends 3″ forward from your factory coupler or choose 9″ extension for short bed pickups)
Includes complete Shocker Gooseneck Surge® air hitch with built in airbag, replacement inner tube stem & 30,000 lb Shift Lock™ gooseneck coupler for 2-5/16″ ball.
Have a different trailer brand? Click this link to Find Your Gooseneck Surge Air Hitches by Trailer Mfg
Round Tube Pin & Sizing Guide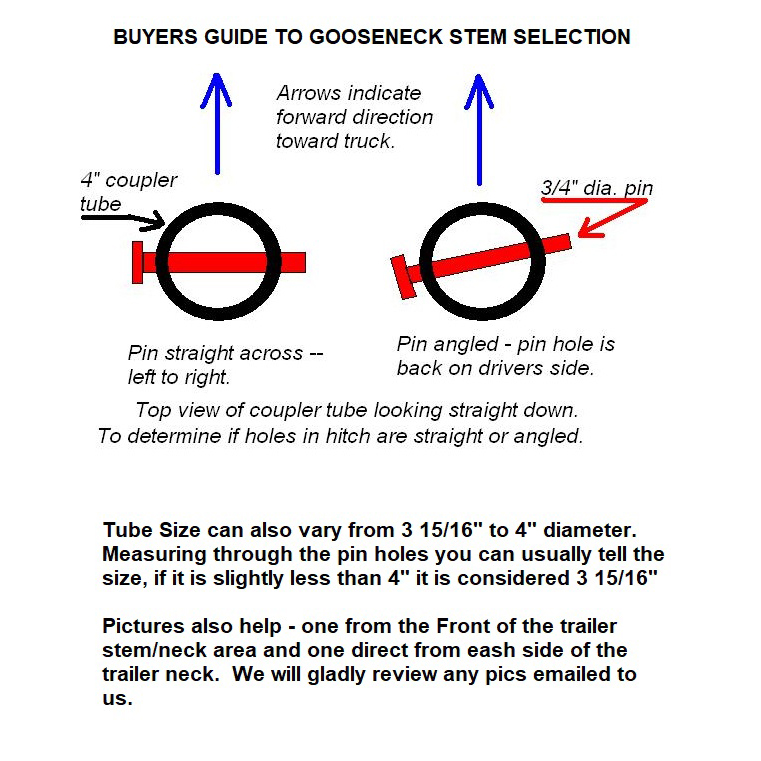 The airide Shocker Gooseneck Surge® air hitch & coupler is the ultimate in gooseneck trailer towing for your Platinum Coach gooseneck horse trailer. This shock absorbing cushion hitch is the only air ride hitch to exclusively work in a forward and back motion, which is often times this is the biggest jerk you feel when towing gooseneck trailers. The built in airbag filters the road shock through the airbag creating a smoother, safer towing experience for you, your pickup, your trailer & their contents. This gooseneck cushioning hitch features the patented exclusive 30K Shift Lock™ gooseneck air couplers for 2-5/16″ hitch balls. It's also available with a 9″ extension for short bed pickups.  Whether you are occasionally towing or hitting horse and rodeo events across the country, this will definitely improve your towing experience. Upgrade your gooseneck trailer with the smooth towing solution.  Completely replaces your factory gooseneck stem & coupler with the Gooseneck Surge Air system & coupler. Installs in minutes.
Fits Platinum coach gooseneck trailers have round stems that are 4″. Comes with angled / slotted holes for the pin.  It also extends the coupler 3″ forward. The Shocker gooseneck surge air hitch attaches easily to your trailer. Replacement stem has 3 adjustment holes and the coupler extends 3″ forward from factory location or you can also order it 9″ forward for short bed pickup trucks. Not sure what size round gooseneck stem you have? Check out our gooseneck stem selection guide.
Adjustable for Tow Weight: The air bag sits behind your gooseneck hitch and out of the way. You will find the advantage of the Air Shocker is your ability to adjust air pressure for best ride and load control. View our Shocker PSI Air Pressure tuning guide.
Shift Lock™ Coupler: 30,000 lbs rated, patented gooseneck coupler. The only gooseneck coupler that captures ball on both sides. At a glance, you can see if the coupler is locked on the ball. Easy to use handle to hook up and disconnect the coupler from the ball. Plus it extends your factory hitch 3″ forward.
Air Ride Hitch Technology: Shocker Air is designed with a built-in air bag for a smoother towing experience. Just add air depending on the weight of your trailer and its' contents. An air bag is simply the best cushion device on the planet.
Simple Pivot Design: Uses a rocker arm pivot design which produces a front and back motion, much different than other cushion hitches on the market. Our design eliminates the need for parallel linkages, shock absorbers, torsion arms and other over engineered gadgets.
Shock Dampening & Absorbing Action: Shocker air hitch effectively absorbs the jerking, tugging and damaging forces experienced with a typical hard connection when towing trailers. There is no reason to beat yourself or your equipment up with a hard connection.
Improves Safety: By giving you improved control of your tow vehicle and trailer. The Gooseneck surge air hitch system allows for better control of your pickup and the trailer it is towing.
Saves Money: By reducing trailer breakage on both the trailer and the trailer contents! The Shocker hitch absorbs the damaging forces experienced with a typical hard connection. This greatly reduces the chances of breaking welds and doing other long term damage to your equipment as well as the valuable cargo you have inside the truck and trailer.
Provides Comfort: With a smoother ride! Travel a lot on concrete highways? No more jarring every time you cross a section divider. Your Shocker air hitch absorbs the thumps, bumps and jerks you feel when towing your gooseneck trailer.
Saves Fuel: By using a gooseneck Surge Hitch, you may save as much as one mile per gallon. When we developed the Surge Hitch our intention was to give a smoother ride, period. We perfected that and never considered the other benefits. Customers using the Surge hitch started calling with reports of better fuel mileage. Claims of up to a mile per gallon are pretty normal.
Adds Life To Your Vehicle & Gooseneck: By reducing wear and tear on driveline and frame! Treat yourself, your equipment, and your passengers to a much smoother ride. You'll never go back to the 'old days' of continual bumps, jerks, and vibrations. Join the list of satisfied customers that are using Shocker hitches. Order one today and get ready for your ultimate smooth towing experience the next time out.
California Residents: Prop 65 Warning