How Has Shocker Hitch Helped Fleets?

"Being a hot shot trucker, I can tell you this has been a great addition to our operation. Smooth and adjustable for various weights and load types. PJ trailers are great, but this make the PJ gooseneck super great!"

Arnie J. Hot Shot Trucking Company Owner

"This was super easy to order and install after very quick shipment. I love the increase comfort from the dampening effect, and it really increased my control of my rig. I am a fan and will gladly recommend the Gooseneck Surge Air Hitch"

Craig W. Hot Shot Fleet Trucking Company Owner

"Our entire fleet of fiber optic trailers are equipped with a shocker air hitch. This has saved us money on trailer repairs and fuel."

Jimmy Drexel. Oren Hatch Companies.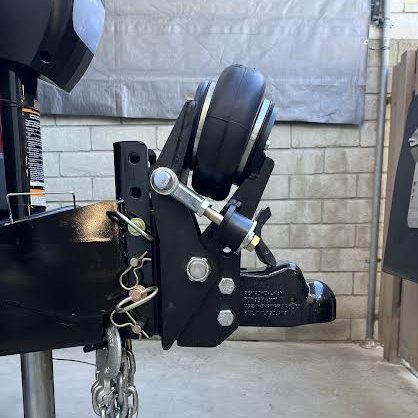 Save money. Save time. Delight your employees.
Join us and learn why Shocker Hitch is right for your fleet.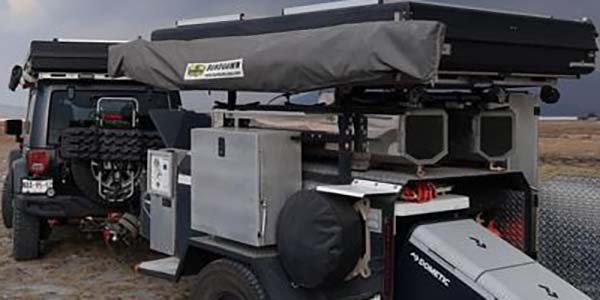 Safer Smoother Towing: Improves your ride, reduces wear & tear on pickup & trailer. 

Air Ride Technology:

Built-in air bag for a smoother towing experience. Just add air depending on the weight of your trailer and its' contents. An air bag is simply the best cushion device on the planet.
Easy Install: Completely replaces your factory gooseneck stem & coupler with Gooseneck Surge Air System & Coupler. Installs in Minutes.
Absorbs Road Shock: Helps eliminate tugs, jerks & bumps felt when towing on rough roads or concrete highways.
Adjustable for Tow Weight: The air bag sits behind your gooseneck hitch and out of the way. You will find the advantage of the Gooseneck Air Shocker is your ability to adjust air pressure for best ride and load control. View our Shocker PSI Air Pressure tuning guide. Heavy loads, just add air.
Shock Dampening & Absorbing Action: Effectively absorbs the jerking, tugging, bumps and damaging forces experienced when towing on rough roads & concrete highway with a typical hard connection.
30,000 lbs Tow & 7,000 lbs tongue weight: Patented 30,000 lbs dual latching Shift Lock™ coupler for 2-5/16" gooseneck ball.
Fits 2-5/16" gooseneck hitch balls: & has 3 height adjustment holes. (Standard coupler extends 3" forward from your factory coupler or choose 9" extension for short bed pickups).
Patented Shift Lock™ Coupler: 30,000 lbs rated, patented gooseneck coupler. The only gooseneck coupler that captures ball on both sides. At a glance, you can see if the coupler is locked on the ball. Easy to use handle to hook up and disconnect the coupler from the ball.  Patent #'s 11,370,257 B1 & D898,628.
Simple Pivot Design: Uses a rocker arm pivot design which produces a front and back motion, much different than other cushion hitches on the market. Our design eliminates the need for parallel linkages, shock absorbers, torsion arms and other over engineered gadgets.
Improves Safety: By giving you improved control of your tow vehicle and trailer. The Gooseneck surge air hitch system allows for better control of your pickup and the trailer it is towing.
Adds Life To Your Vehicle & Gooseneck: By reducing wear and tear on driveline and frame! Treat yourself, your equipment, and your passengers to a much smoother ride. You'll never go back to the 'old days' of continual bumps, jerks, and vibrations. Join the list of satisfied customers that are using Shocker hitches. Order one today and get ready for your ultimate smooth towing experience the next time out.
Saves Fuel: Customers using the gooseneck air hitch report saving one mile or more per gallon.
Custom Fit: Available for 100mm Round, 4" Round, 100mm Square, 4" Square & Crank style gooseneck stems.
Not sure what size round gooseneck stem you have? Check out our gooseneck stem selection guide.
Includes complete Shocker Gooseneck Surge® air hitch with built in airbag, replacement inner tube stem & 30,000 lb Shift Lock™ gooseneck coupler for 2-5/16" ball.
Not Sure What You Need To Order? Order by Trailer Manufacture. Click this link to Find Your Gooseneck Surge Air Hitches by Trailer Mfg.
Got a Short Bed Pickup? Check out our all new Gooseneck air hitch with 9" extension.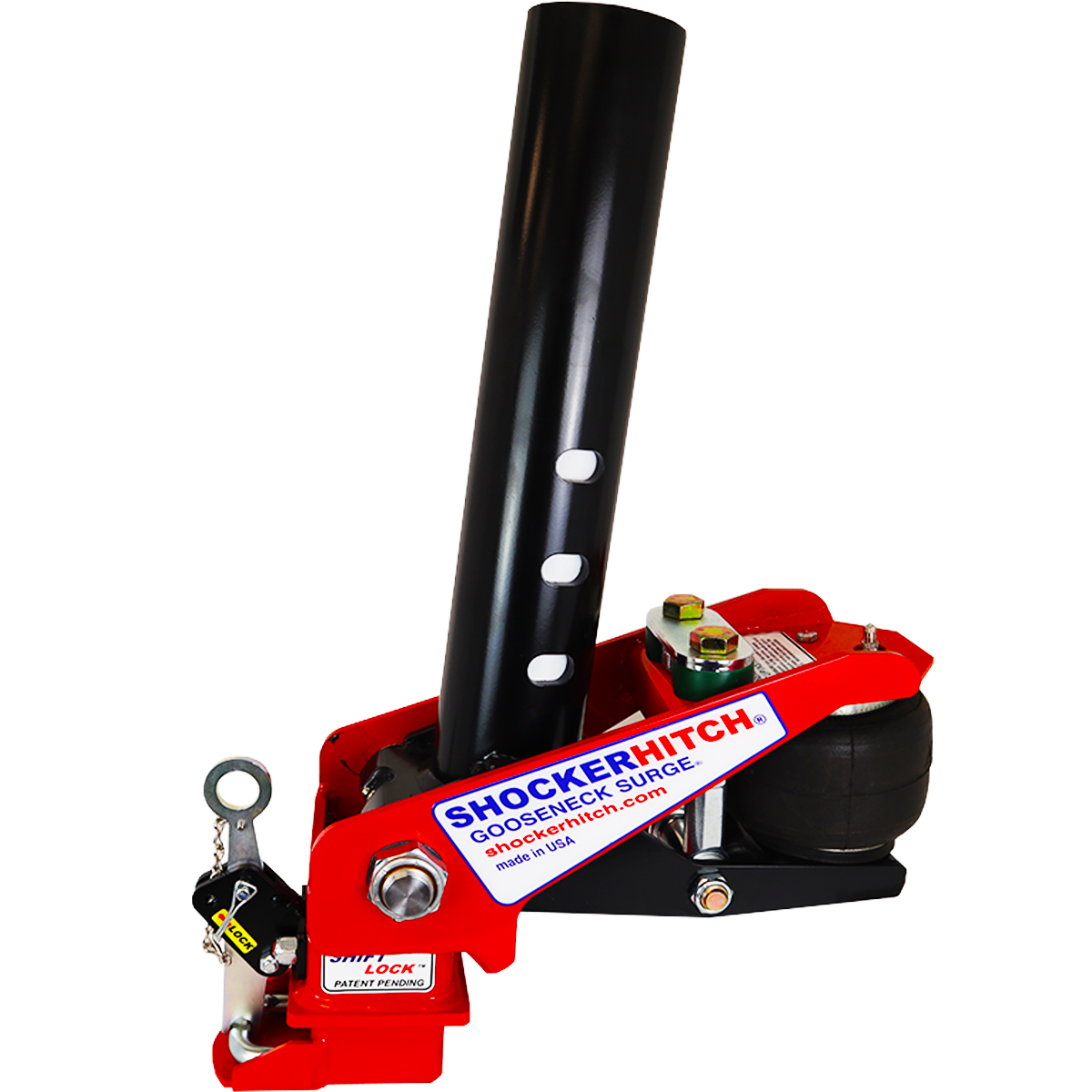 Shocker Gooseneck Surge Air Hitch & Coupler Videos
Shocker Gooseneck Surge Air Hitch & Coupler Installation
When used properly these Gooseneck surge air hitch will make noticeable improvements in your gooseneck trailer towing quality. Giving both truck and trailer a smoother ride with less trailer fatigue and breakage.
Install a Gooseneck Surge in Minutes
How to Air Up Gooseneck Surge Air Coupler?
Gooseneck Surge Air Pressure:
This is a LOW-PRESSURE hitch, that works by tow resistance.
Set air pressure at approx. 15 psi, then test drive.
Increase pressure in 5 psi increments until optimum results are found.
Typical air pressure range is 5 – 15 psi.
Note:
 When towing heavy trailers or trailers with high wind resistance it may be necessary to increase air pressure in the Shocker.
Maximum Pressure: 
Do not exceed 100 psi in the air bag, as it may damage the air bag.
Gooseneck Surge Stem Selection Guide Video
Download Gooseneck Surge Installation Manual
Maximum weights for Shocker Surge: 30,000 lbs GTW & 7,000 lbs Tongue Weight for Patented 30,000 lbs Shift Lock™ coupler for 2-5/16″ gooseneck ball (Offset 2-5/16″ coupler tongue weight is 6,000 lbs). 40,000 lbs GTW & 7,000 lbs Tongue Weight for Patented 40,000 lbs Shift Lock Coupler for 3″ gooseneck ball. For the QuickAir 5th To Gooseneck Air with Shift Lock™ coupler for 2-5/16″ gooseneck ball  it is 24,000 lbs GTW & 6,000 lbs Tongue Weight. Patent #'s 11,370,257 B1 & D898,628. Safety Notice: The Shocker Hitch is a heavy-duty unit, however, it is imperative that any weight capacity ratings are not exceeded on the ball that is mounted on your tow vehicle, or the Shocker Hitch. V-19 rated. Do not exceed G.V.W.R. of ball being used.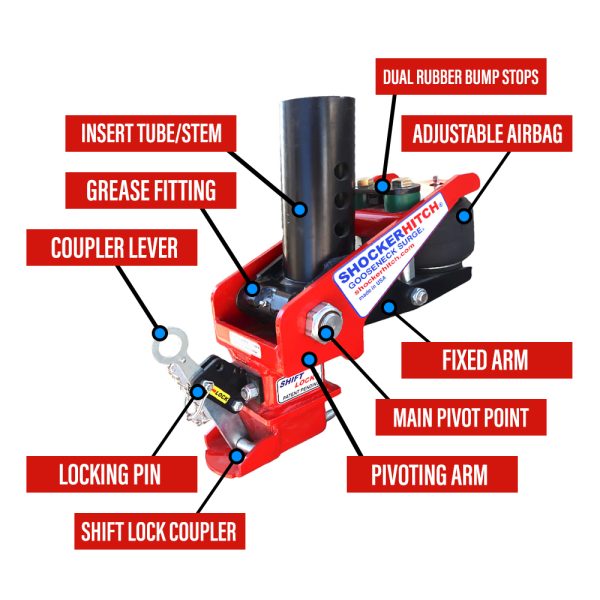 Installation Issues
We want you to have the best possible towing experience with your product and proper installation is important. If you need help, we are here for you. Just give us a call at
701-707-2666
or use our
contact us
form. You can also look up the item's product page on our website and view the installation tab. Most products on our website have a set-up guide and installation video.
Answers to Frequently Asked Questions on the Gooseneck Surge Hitch
How do I know the Gooseneck surge with fit my gooseneck trailer? There are two things you need to know. What kind of stem your gooseneck trailer has and what kind of ball your pickup has. You can also find the hitch you need by using our Gooseneck Trailer MFG guide.
What is the Gooseneck surge tow rating?  30,000 lbs towing capacity for 30K Gooseneck air with shift lock coupler for 2-5/16″ ball & 7,000 lbs tongue weight. 40,000 lbs towing capacity with 40K goose air with shift lock coupler for 3″ ball. The 9″ offset coupler for 2-5/16″ ball has 6,000 lbs tongue weight.
How long will the airbag last? Our air spring bags are an industrial bag and will last for years and years. They are similar to truck air spring bags but have been beefed up internally for our towing applications. We do offer replacement airbags. How long will it hold air? This is a sealed air system that will hold air for weeks or months. If you haul the same trailer with the same load weight, it should be good for quite some time.
Is there a way to lock the Gooseneck coupler? Yes, we do carry a Shift lock gooseneck coupler lock specially made for our Gooseneck surge hitch & coupler as well as a stem set bolt locks.
Can you really install the Gooseneck Surge in a couple of minutes? Yes check out the install video.
How much air do I put in the gooseneck surge air hitch?  See air pressure video.
What do your mean when you say straight or angled / slotted pin holes?  We are wondering if your gooseneck stem has holes that are straight across OR if it is slightly angled 10-30 degrees, where the stem hitch pin is off set or at an angle. Below is a picture of an angled stem, which we would use a stem with slotted holes to fit this angled pin. See our gooseneck stem selection guide.
Will it work with my flat bed pickup with recessed in a flatbed pocket? Yes, see the fitment guide for recessed ball.
If I Order a gooseneck surge air hitch & coupler, what all comes in the box? Includes a complete replacement inner gooseneck stem, surge air hitch system & shift lock coupler along with clear-cut installation instructions.
How strong is the center pivot bolt?  The main pivot bolt with grease zerk, or center pivot bolt, used on the gooseneck hitch, is a custom made 1.25 inch diameter 1045 medium carbon steel bolt. Strategically heat treated to prevent wear and includes a machined grease passage for easy lubrication and maintenance. It should be noted that the yield strength of the 1.25″ pivot bolt exceeds the rating of the gooseneck hitch. How often do I grease it? The grease does not just lube the pivot; it also keeps water and dirt out. You cannot over grease it, once every few months should do it.
How does the air ride work? The air shocker is like a teeter totter. One end is an air bag, a pivot in the middle, and a ball at the other end. This gives a "pillow" effect at the ball end.
How much does an Shocker gooseneck surge weigh? The Gooseneck Surge Air Hitch & Coupler weighs 95 to 100 lbs depending on the model.