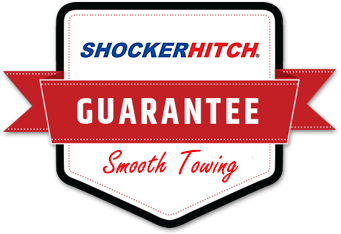 60-DAY MONEY BACK GUARANTEE
We want you to be 100% satisfied. You've got 60 days to ensure your hitch fits your lifestyle.

SMOOTHER TOWING
We guarantee whatever you are towing, the ride on your pickup and trailer will be smoother with any of our air & cushion products period.

FREE SHIPPING* & FREE RETURNS
If you are not satisfied, you can return it for free the first 60 days. See our free shipping* & free return policy. HOMETOWN CUSTOMER SERVICE
We are here to help. We are happy, when you are happy.

INSTALL HELP
We're glad to answer any questions you have. support is here 8am‐5pm, Mon‐Fri at 701-707-2666 or you can email anytime.

MADE IN THE USA
All of our products are custom made with good all American folks in Jamestown, ND USA
The Shocker Hitch Guarantee applies to products purchased from ShockerHitch.com.