Product Description
Completely replaces your factory inner tube stem & coupler: Installs in minutes.
Heavy Duty thick wall design stem: Available for 4″ Round, 4″ Square & Crank style gooseneck stems
30K Shift Lock Coupler: Patented, game changing design. Dual latching, captures both sides of ball. Easy to use handle & see if it's latched at a glance
30,000 lbs towing & 6,000 lbs tongue weight capacity: Built for the heavy duty gooseneck hauling.
Fits 2-5/16″ gooseneck hitch balls: Gooseneck couplers for 3″ ball available separately.
4 Adjustment Holes: Stems have 4 adjustment holes, holes are 2-3/4″ apart.
Includes complete replacement inner tube gooseneck stem & Shift Lock™ coupler
Does not include outer gooseneck sleeve tube
Not sure what size round gooseneck stem you have? Check out our gooseneck stem selection guide.
The Shift Lock coupler is also available on all Gooseneck Surge Air Hitches.  Want the shift lock coupler on an gooseneck air hitch? Check out our Gooseneck Surge Air Hitches.
Round Tube Pin & Sizing Guide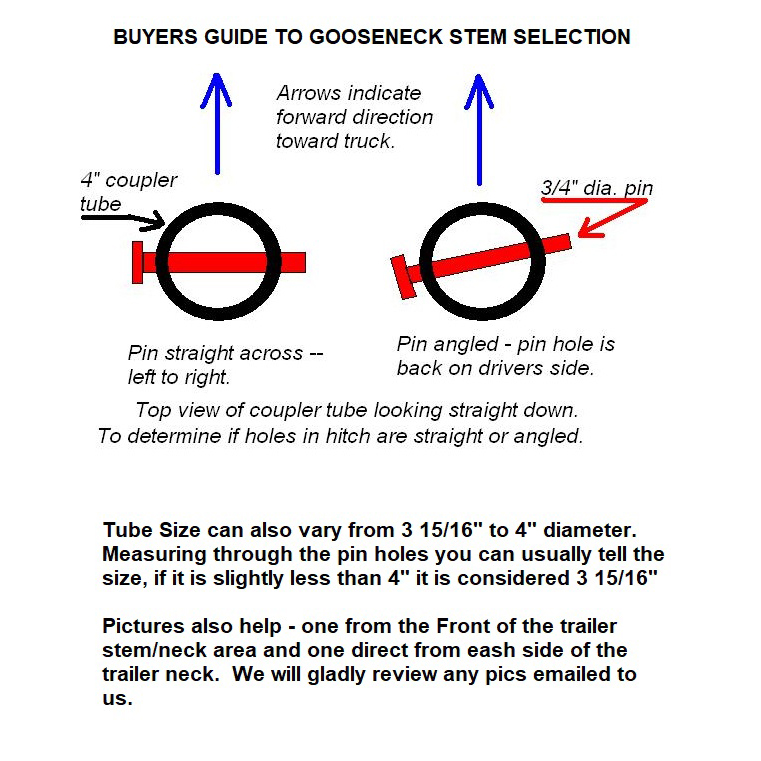 30,000 lb gooseneck coupler for 2-5/16″ gooseneck ball with adjustable inner tube stem. Inner tube replacement gooseneck stem & coupler. The Shift Lock™ gooseneck coupler by Shocker Hitch is now available with a direct replacement solid inner tube stem with Shift Lock coupler. Upgrade your gooseneck trailer with the easy to use, patented dual latching Shift Lock coupler for gooseneck trailers.  It is rated at 30,000 lbs rated and is the only gooseneck coupler that captures ball on both sides. Plus, at a glance, you can see if the gooseneck coupler is locked on the ball. The Shift Lock handle makes it super easy to hook up and disconnect the gooseneck coupler from the ball. The 30K Shift Lock™ Coupler fits 2-5/16″ hitch balls. We have a solution. Our Shift Lock Coupler is easy, fast, and safe. We use dual latching simple sliding rods made with alloy steel to lock the ball in place. Works great on gooseneck style trailers; dumps, flatbed, horse, race trailers and more. Completely replaces your factory stem & coupler with a replacement stem & Shift Lock coupler. Installs in minutes.
The Shift Lock coupler is also available on all Gooseneck Air Hitches.
Patent # 11,370,257 B1
California Residents: Prop 65 Warning