Product Description
Sway control combo multi-ball mount with 2 sway control tabs for mounting the basic sway control arm bar(s) & mini balls (such as the Shocker 17200 friction sway control kit or Reese 83660 Sway Kit)
Cushion hitch adjustable combo ball mount with multi-balls 2″ & 2-5/16″
Dual bump cushion design for HD contractor type, camper and enclosed trailer towing
Works great on pickup trucks, vans, suvs, cuvs and minivans for pulling campers & other trailers
7 adjustment holes that can be flipped around more drop or rise
7″ of Adjustment – 4″ of rise to 4″ of drop
Sway Bar combo mount fully zinc plated is 1-piece construction for max strength & durability
12,000 lbs towing capacity and a 1,200 lbs tongue weight
2 hitch pin holes to adjust the length and there is plenty of room on the receiver shank to accommodate hitch mounted towing mud flaps or shocker bumper tow flaps
Choose either a 2″, 2-1/2″ or 3″ receiver hitch shank
Works with all our other ball mount adaptors attachments; Pintle hooks, combo multiball, clevis, cushioned drawbar, drawbar, drop ball mounts, raise ball mounts and more
Includes complete adjustable Shocker impact cushion hitch base frame assembly, combo dual ball mount with 2″ & 2-5/16″ hitch balls & 2 sway bar tabs & 2 ball mount pins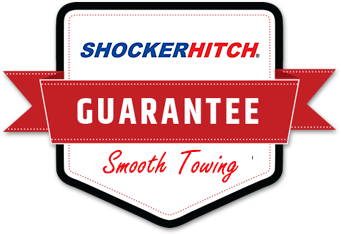 The Shocker Impact cushioned hitch combo ball mount with welded tabs for the basic sway control arm / bars with mini hitch ball. Shocker Impact sway control cushion hitch with combo ball mount is designed for heavy duty use to cushion the towing experience. The dual bump cushion design is rated up to 12,000 lbs. Featuring a combo multi-ball mount with both a 2″ hitch ball and a 2-5/16″ hitch ball. It has 7″ of height adjustment range from 4″ of rise to 4″ of drop. 12,000 lbs tow rating capacity and 1,200 lbs tongue weight. Welded combo ball mount with a premium finish along with sway bar tabs for the mini ball on each side. Shocker Impact cushioned hitch ball mount provides versatility and a way smoother towing experience than a solid ball mount. The Impact ball mount has built in adjustability maximum versatility with 7 adjustment holes for your towing needs for pulling campers to enclosed trailers. This Shocker Impact cushioned sway bar combo ball mount attaches by sliding into a standard receiver tube. Use this adjustable ball mount however you need to for tons of versatility. Works great on motorhomes, rv's, pickup trucks, vans, suvs, cuvs and minivans. Plus the shank has 2 holes for the pin for length adjustability as well as allowing it to work with hitch mounted mud flaps. Sway Bar combo mounts come fully zinc plated. Made by Shocker Hitch® USA
Note: The sway control tab mount is designed to work with the Shocker 17200 Friction Sway control kit or Reese 83660 sway control kit, which are not included and available separately. Suggested to get 1 kit if towing under 10,000 lbs and 2 kits if towing over 10,000 lbs.
Tons of Attachments: We offer a wide variety of our ball mount attachments; standard mounts, drop ball mounts, clevis mounts, drawbar mounts, cushioned drawbar mounts, pintle hook attachments, raised mounts and combo multi-ball mounts.
Safety Notice: The Shocker Impact ball mount with cushions is a heavy duty unit that in most cases exceeds factory receiver hitch weight capacities, therefore it is imperative that you always read and follow the tongue and towing weight recommendations of the receiver hitch that is mounted on your tow vehicle.
California Residents: Prop 65 Warning