Product Description
Smoother safer towing. Improves your ride, reduces wear & tear on pickup & trailer
Air Ride Technology: built in HD air bag cushions the ride and creates a smoother towing experience for both the vehicle and trailer
Comes with Adjustable raised ball mount with chrome 2″ or 2 5/16″ bolted on hitch ball
8 adjustment holes. Adjustable height for raised ball mount (2″ of rise to 2″ of drop)
Fine tune for your towing weight. Just add air for heavier loads.
Available for 2″, 2-1/2″ & 3″ receiver hitch tubes
16,000 lb rated towing capacity / 1,600 lb tongue wt
Great for pickup trucks, vans and select SUV's where the receiver hitch tube is under the bumper. Have a CUV? Check out our Cushioned Ball Mounts.
Huge selection of ball mount adaptors available from Pintle hooks, draw bars, drop ball mounts, raise ball mounts and more.
Comes complete with Shocker HD air hitch base frame assembly with built in HD 16K airbag, raised ball mount with hitch ball & two d-handle ball mount pins with clips.
Not sure of your receiver tube hitch size?  Measure inside to inside. How to measure receiver hitch tube size?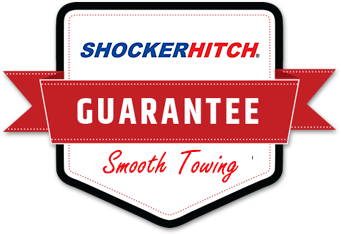 Free Ground Shipping* | Shocker Guarantee | Free Returns
Add instant air ride to your pickup for towing. The Shocker HD Air Receiver Hitch with a raised ball mount comes with a 2″ or 2-5/16″ hitch ball 8″ adjustment holes for 2″ of rise to 2″ Drop. Heavy duty suspension hitch for 16,000 lbs trailer tow rating capacity and 1,600 lbs tongue weight. Shocker air provides the ultimate smooth ride. The Shocker HD Air is a miniature air suspension unit mounted between your pickup truck and trailer. Built in airbag directs road shock through air bag, cushioning ride. This Heavy-duty shock absorbing trailer hitch mounts by sliding into a standard receiver tube. The Shocker air with standard ball mount is great for most standard full size and heavy-duty 3/4 & 1 ton pickup trucks. This shock absorbing hitch is a must have for smoother trailer towing. The standard ball mount is black powdered coated with a bolted on chrome hitch ball for maximum strength.  Great for pickup trucks, vans and select SUV's where the receiver hitch tube is under the bumper.  Manufactured by Shocker Hitch® USA in Arthur, ND
The 16k HD air bag sits under the receiver tube allowing a short distance of 10-inches between mounting pin and ball center. You will find the advantage of the HD Air Shocker is your ability to adjust air pressure for best ride and load control. Plus the drop range is great for stock pickup trucks. Fits standard 2″, 2-1-/2″ & 3″ receivers.
Heavy Duty Air Ride Towing: Shocker Air is designed with a built-in air bag for a smoother towing experience. Featuring a built in height adjustment plus weight adjustable. Just add or ride air depending on the weight of your trailer and it's contents.
Simple Pivot Design: uses a rocker arm pivot design which produces a down and back motion, much different than other air hitches on the market. Our design eliminates the need for slides, parallel linkages, rollers, shock absorbers, or multiple air bags common to other air hitches.
Shock Dampening Action: Shocker air hitch effectively absorbs the jerking, tugging and damaging forces experienced with a typical hard connection when towing trailers. There is no reason to beat yourself or your equipment up with a hard connection between your trailer and your receiver hitch.
Provide Comfort: With a smoother ride! Travel a lot on concrete highways? No more jarring every time you cross a section divider. Your Shocker air hitch absorbs the thumps and bumps.
Improves Safety: By giving you improved control of your tow vehicle and trailer. The air bag receiver hitch system allows for better control of your pickup and the trailer it is towing.
Saves Money: By reducing trailer breakage on both the trailer and the trailer contents! The Shocker hitch absorbs the damaging forces experienced with a typical hard connection. This greatly reduces the chances of breaking welds and doing other long term damage to your equipment as well as the valuable cargo you have inside the truck and trailer.
Adds Life To Your Vehicle: By reducing wear and tear on driveline and frame! Treat yourself, your equipment, and your passengers to a much smoother ride. You'll never go back to the 'old days' of continual bumps, jerks, and vibrations. Join the list of satisfied customers that are using Shocker hitches. Order one today and get ready for your ultimate smooth towing experience the next time out.
Tons of Attachments: We offer a wide variety of our ball mount attachments; standard mounts, drop ball mounts, clevis mounts, drawbar mounts, cushioned drawbar mounts, pintle hook attachments, raised mounts and combo multi-ball mounts.
Note: With a 2″ receiver hitch ball, your tow weight rating is 10,000 lbs and 1,000 lbs of tongue weight.
California Residents: Prop 65 Warning