The 12K Shocker Air Receiver Hitch, 20K Shocker HD & Max Black Air Receiver Hitch are easy to install. It comes complete with easy to understand instructions along with everything you need. You can download the installation instructions or view the video below. How much PSI for my Shocker Air Bumper Hitch?
Shocker Air Receiver Hitch Install Video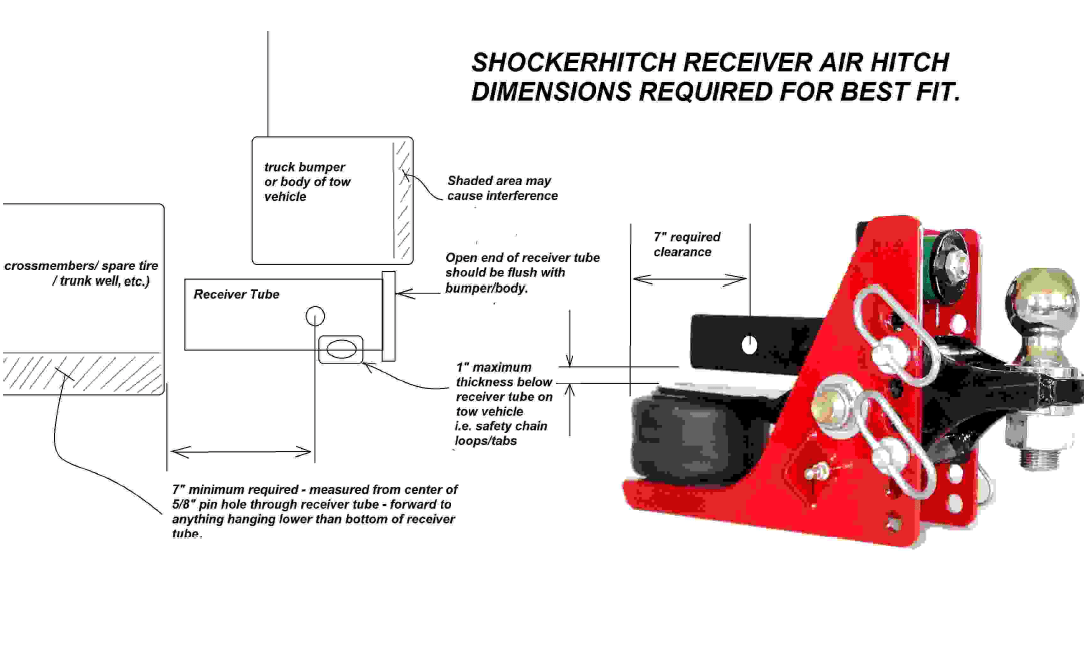 Maximum Rate Ratings: Shocker Air 12,000 lbs tow weight & 1,200 lbs tongue | Shocker HD & HD Max Black 20,000 lb tow rating & 2,000 lbs tongue.
Note: Always use a good hitch ball with the proper recommended tow weight.
Safety Notice: The Shocker Hitch is a heavy duty unit that in most cases exceeds factory receiver hitch weight capacities, therefore it is imperative that you always read and follow the tongue and towing weight recommendations of the receiver hitch that is mounted to, the tow rating of your vehicle and trailer.
Will the Shocker Air Bumper Hitch work with Equalizer or Weight-Distribution? If you are just using friction sway bars that hook to a mini ball (such as the shocker sway control kit), then yes, if you order the combo sway control ball mount attachment. If you have an equalizer or weight distribution hitch then it will not. However, check out our Air Equalizer for weight distribution hitches.
Shocker Air Installation: First you must compress the air bag. Do this by depressing air valve and pushing down on air bag.
Once the bag has been compressed, you can install the unit into the receiver tube. Next install hitch pin.
To Set Air: Hook up trailer using properly selected ball adaptor and height adjustment in order to a level trailer when loaded. Next, inflate the air bag. As air pressure increases, the unit will rotate lifting the hitch point. Install enough air to lightly compress top bushing or until bump stop clearance is approximately 1/8″.
Additional Set Up Notes:
When towing heavy trailers or trailers with high wind resistance it may be necessary to increase air pressure in the Shocker.
It is highly recommended that the hitch ball be greased to reduce wear and improve shocker action.
DO NOT TIGHTEN THE TOP BOLT, IT IS A LIMITER STOP ONLY.
Maximum Air Pressure: Do not exceed 100 psi in the air bag, as it may damage the air bag.
Shocker Air Bag Receiver Hitch Install Instructions
Download: Shocker Air Bumper Hitch Installation Manual
Shocker Bumper Air Hitch Air Pressure PSI Tuning Video
Installation Issues
We want you to have the best possible towing experience with your product and proper installation is important. If you need help, we are here for you. Just give us a call at 701-707-2666 or use our contact us form. You can also look up the items product page on our website and view the installation tab. Most products on our website have a set-up guide and installation video.